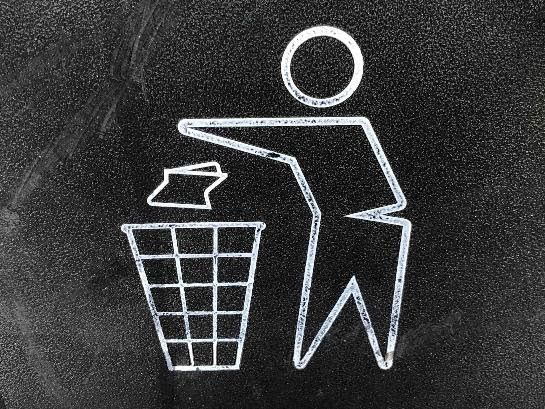 HOW TO MANAGE YOUR WASTE
An interview with a waste expert
Working with businesses who are trying to improve their environmental performance, one of the most common areas I tend to address is waste management. It can be very tricky to juggle compliance, staff engagement and misinformation and so I spoke with Genna Delahunty from Waste Management Facilities to get her advice on how businesses can manage waste a bit more effectively.
Hi Genna. Thanks so much for taking the time to chat with me today. Can you tell me a bit about your business and the services you offer to clients.
Waste Management Facilities is a Bournemouth based, family run, National Waste Brokerage. We offer a full waste management package for customers from small bars and restaurants to large nationwide house builders and construction companies. We do not only supply skips, roll on/offs, welfare units, hazardous waste, grab lorries etc, we also offer auditing, workshops and consultancy to all businesses, believing that with education everyone can make the right decisions that are business viable and environmentally responsible.
You really do cover a range of services for companies looking to manage their waste more efficiently. How did you get into the waste industry?
At the age of 19, I had come home from travelling and ended up in sales. However, when Lisa (my mum) was asked to help and take over WMF, she asked if I could help answering phones as they were short staffed. I really enjoyed the fast-paced office culture and loved talking to the builders on site. I soon left my sales role to join WMF and help the business to become a family run brokerage. Since then I have become more and more passionate about the waste industry and have spent nearly 10 years climbing the ladder at WMF.
I love that it's you and your mum, heading up the family business. Such a great story. What is the most common problem your clients have when dealing with their waste?
Our customers have a constant battle with making sure that all their employees and customers understand what waste is to be disposed of in each bin. The business owner can have a real passion for recycling and reuse, however if their staff and customers do not share the same passion, they can be responsible for contamination charges and overweight bins. At WMF we offer toolbox talks to staff members and literature for the business owners to give to their staff and customers. This can help to not only avoid contamination charges, but also promote to everyone that they are environmentally responsible, which can then help boost trade.
Confusion over what rubbish goes in which bin is so common and something the majority of my clients battle with so it's great to hear that you guys can support on this. How important is it for us as waste producers to understand where our waste ends up?
Although we all pay for someone else to take our waste away and deal with it, this does not mean that we shouldn't have a basic understanding of what happens to our waste after it leaves our property. We have a Duty of Care as waste producers to know where our waste is taken. It is always a pleasure, when carrying out my workshops to offices, to see how fascinated people become when they see the machinery that deals with their waste. I believe that most people still imagine that their waste is taken away and buried in the ground.  Nearly 10 years ago when I started in the waste industry, no one really wanted to learn about waste destinations and segregation, however now I can be the most popular person at a dinner party.
I am definitely in that fascinated group, particularly since the revelation (for me, at least) that so much of our waste used to be shipped abroad. I work with many businesses to ensure they are compliant with environmental legislation and waste legislation is a big part of that. What is the best way to keep track of existing and new waste legislation?
Being part of the CIWM (Chartered Institute of Waste Management) is a great way to stay up to date. They send out regular newsletters and you can attend free of charge seminars that I find really interesting, even if they are just a form of finding out what other businesses' struggles are. Also following your waste provider on LinkedIn can be a great way of keeping up to date with new legislation in the waste industry.
Great tips. Thanks, Genna. Waste management is something that many businesses are focusing on but what are some of the benefits of managing your waste properly?
Managing your waste has so many benefits so I will try and keep it to three that I think are the most important to people and business owners. Firstly, a segregated container (recycling bin, timber skip etc) is always much more cost effective than a container that you can put all waste streams in. This is more cost effective as the depot do not have to segregate it back at their yard and in most circumstances, they can send this straight for recycling or reuse, also cutting down on fuel.
Secondly if we do not do this now, we are leaving behind a world for our children and grandchildren that is unknown. If we keep abusing our world then there will be more natural disasters to come and if the floods have not shown people that it is time to make a change then I am not sure what it will take. If everyone can do what they can, within the boundaries of their own lives then we can help our future. Recycling more is a massive part of the small changes that people can make to have a big difference.
Finally, BUY RECYCLED PRODUCTS. If everyone started to only buy products that were packaged in recycled packaging, then recycling would be easier to do.
I'm sure that cost benefits are a big plus for any business! In your experience, what is the most common piece of rubbish that ends up in the wrong bin?
Plastics are a huge struggle. This is because there is so much information out there about plastics, a lot of which is not based on truth. There are different types of plastic and some are recyclable, and others are not. When people get confused, they tend to put all of this into a general bin, rather than recycling plastics where they can. This can have a huge effect on recycling figures and how much energy needs to be used to segregate this waste to be recycled.
I totally agree. There is so much confusion and misinformation out there so I can see how engaging with your waste provider could really help. Can you give any tips on engaging employees to improve waste management in an office environment?
Getting someone in for a workshop is a great way to engage employees. Rather than just a presentation, a workshop can start a conversation that is more likely to carry on once the workshop has ended. I would also encourage a green team in any size business. Even if it is just a couple of people that regularly talk to their waste management company to discuss what they can do to make a difference. The team can help make changes that slowly become a habit.
I've included a link to WMF's website below as well as to Genna's LinkedIn profile so please do contact her for more information or if you have any further questions.
You can also contact me if you'd like to discuss more about how waste management can form a part of your overall environmental strategy.
T: 01590 381 105