Strategies for purpose-led business
79% of people are more loyal to purpose-led brands according to respondents in a 2018 Cone/Porter Novelli Purpose Study.
The Financial Times defines this kind of social responsibility as 'a business approach that contributes to sustainable development by delivering economic, social and environmental benefits for all stakeholders'.
In a nutshell, this means creating a business that not only does no harm, but also strives to do good. It's all about balancing purpose and profit.
COVID-19 Update: At True Horizon, I am still working hard and fully capable of supporting clients remotely. I have, however, modified how I deliver some services in line with social distancing guidelines.
If you have any queries or concerns, please do not hesitate to get in touch.
TRIPLE BOTTOM LINE STRATEGY
BALANCING PEOPLE, PLANET AND PROFIT
Any business, regardless of size, is capable of making a positive impact. In line with UN Sustainable Development Goals (SDGs), I will work with you to:
Identify areas within your business that could be improved from an environmental or social perspective

Learn the no & low cost quick wins that will allow you to start making  improvements straight away

Develop detailed action plans for setting & achieving your goals

Communicate a clear & authentic message to your clients

Create the building blocks for obtaining certifications like B Corporation or ISO 14001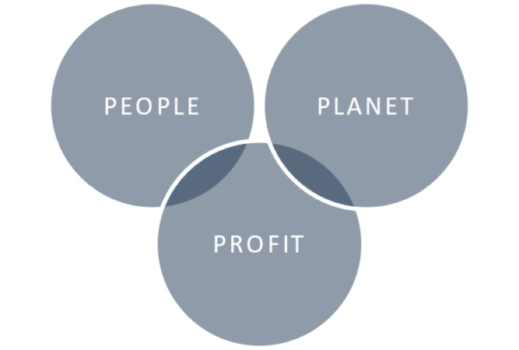 THE WHAT
If you are part of a purpose-led businesses striving to balance purpose and profit and you want a simple but effective way to integrate sustainable practices into your business and to communicate a confident sustainability message to your clients, then you're in the right place. Your strategy needs to be authentic, transparent and should align with your values. Starting with an initial consultation, I will begin to get an insight into your business, including long term goals and motivations, to understand how best to support you on your sustainability journey.
Free Initial Consultation

Save Money
Reducing your environmental impact can also help to save you money by reducing your utility bills, improving resource efficiencies or generating less waste.
Reduce your Carbon Footprint
You'll create a strategy that helps you identify business activities that impact the environment and develop an effective, low-admin action plan to help you reduce that impact and achieve longer terms goals like carbon neutrality or setting science-based targets.
Boost Loyalty and Trust
A triple bottom line strategy focuses on people as well as planet and profit. Communicating your values will help you attract and retain clients and employees whose values align with yours. 
Stand out from the Competition
64% of global consumers find brands that actively communicate their purpose more attractive according to a 2018 Accenture survey. Making sure you communicate your values is an integral part of any sustainability strategy. 
THE HOW
Although environmental awareness has increased significantly over the past few years, defining sustainability can be complex, often making it difficult to differentiate between true environmental responsibility and 'greenwashing'. At True Horizon, my mission is to simplify sustainability for businesses by helping you balance people, planet and profit.
BUILDING AN AUTHENTIC STRATEGY
I work closely with businesses to understand their ethos and to align environmental and social strategies with corporate strategies.
BESPOKE SERVICES
There is no one-size-fits-all solution, so my targeted and bespoke service is designed to develop effective strategies, starting with quick wins and working towards setting and achieving longer term environmental and social goals.
AN EXTENSION TO YOUR TEAM
I work as an extension to your team, providing my sustainability expertise to help your business increase efficiencies, reduce costs and enhance reputation.
STAKEHOLDER ENGAGEMENT
Stakeholder engagement is at the core of what I do to ensure that any changes that are implemented suit the needs and objectives of employees, management and clients alike.
DATA-BACKED STRATEGIES
You can't improve what you don't measure. As an engineer, my goal is to embed data-backed strategies within your business by developing streamlined processes without the admin burden, as well as monitoring & measuring progress and improvement.
TAILORED STRATEGIES FOR SMEs
As a small or medium sized business, you often have very different requirements to larger corporates when it comes to delivering environmental performance. It's becoming increasingly common for businesses to provide evidence of how they manage environmental impact in order to become a preferred supplier or as a part of a project / client bid. If you're struggling to capture your environmental initiatives and procedures and provide the necessary documentation, then you're certainly not alone. That's why I've developed a suite of tools designed specifically for you. You can download my Sustainability Guide for SMEs to get you started. 
10+ YEARS IN SUSTAINABILITY
My experience ranges from working with SMEs to large corporate organisations both internationally and in the UK.
"Nancy worked with us to establish our company CSR policy and strategy. She offered clear and concise guidance and we are really pleased with the results."
Alec Smith - Director, Artisan Surveyors
"A fantastic company to work with and highly recommended. Always willing to share valuable information on becoming more sustainable."
Patrick Crosley - Director, Stanbury Chameleon
"Nancy and I worked very closely on the implementation of environmental management systems to ISO 14001 for a variety of FTSE100 companies during our tenure at CBRE. I have no hesitation in recommending Nancy as she is very knowledgeable in environmental issues and has the distinct advantage of also being an engineer. She is world leading in her meticulous approach to environmental projects and I wish her every success with her business venture, which will no doubt thrive, as a result."
Paul Prendergast - Environmental Manager, Coats

nlhEnvironmental T/A True Horizon | Company Registered Number: 11294461 | Registered in England & Wales